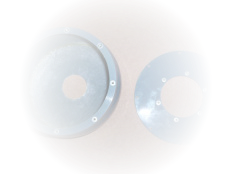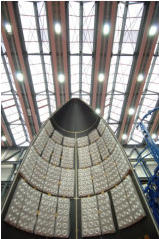 AIRBORNE RADOMES
We manufacture radomes for a wide range of vehicles, including space
launchers, UAV and missiles, but as well specific trucks, etc..
Our engineering department studies any radome from dielectric,
mechanical and temperature side.
We manufacture antennas protections through all composite processes :
Compounds, Prepreg, Liquid resin moulding. We use a wide range of
materials in order to answer to different requirements : Polyimide ,
Bismaleimide , Epoxy , Polyester , Cyanate Ester and fibers such as :
Glass , Ceramic , Quartz , Aramide...
RADOMES EMBARQUES
Nous fabriquons des radomes embarqués pour les lanceurs spatiaux Ariane 5, Soyuz et Véga,
ainsi que pour des satellites, missiles, drones et engins terrestres.
Nous réalisons les études mécaniques et diélectriques, et produisons des radomes selon toutes
les techniques du secteur composite. Notamment dans les matières suivantes :
KINEL ( BMI + Verre en compound), Prepreg : BMI Verre, Polyimide Verre, Epoxy verre,
Epoxy aramide (Kevlar), Cyanate Ester Verre ou Aramide, Voie humide sous vide ou RTM :
epoxy et polyester.
Nous sommes en mesure de réaliser des études complètes de sous-ensembles -
Par exemple : Etude d'interfaçage mécanique avec l'aeronef.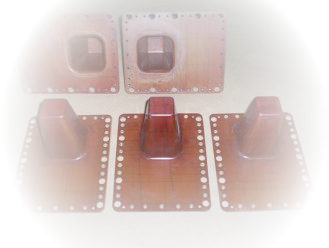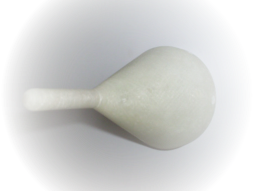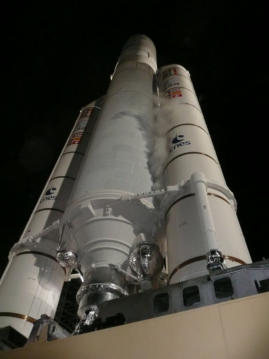 Dielectric properties of following composites :
Propriétés diélectriques de composites suivants :
Permitivity
Loss Tangent
E-Glass + Epoxy :
4.35
0.016
E-Glass + Polyester :
4.15
0.015
E-Glass + Polyimide :
4.7
0.014
Kevlar + Polyester :
3.5
0.05
Quartz + Polycyanate :
3.3
0.006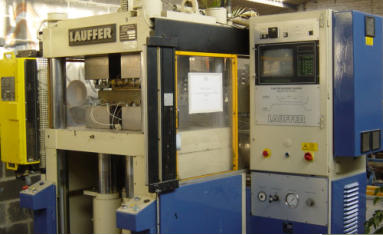 EXAMPLES OF PROJECTS :
We produce two different kinds of
radomes for Ariane 5 and Soyuz
space launchers
Those radomes are external, only
covered by a small skin
The temperature reaches 1200 °C
when the last stage of the space
launcher crosses the atmosphere
The radome stays functional..
We have designed and manufactured
as well antennas protections for Uavs
(Unmanned airplanes) - They are composed
with composite parts as well as metallic inserts,
plastic window (With aiming line), seals...
For a defence company, we have defined the mechanical interface between the radome and the vehicle.
We have as well defined the raw material to be used for better transparency, and made the production of
a serie of 80 antennas protections
EXEMPLES DE PROJETS :
Nous produisons deux types de radomes
pour les lanceurs Ariane 5 et Soyuz.
Ces radomes sont externes, seulement
recouverts d'une fine peau souple.
La température atteint 1200°C lorsque
le dernier étage de la fusée retourne dans l'atmosphère.
Le radome reste fonstionnel...
Nous avons également réalisé des protections d'antennes pour drones
Ils sont composés de pièces composites, d'inserts métalliques, de joints
et d'une vitre de visée
Pour une société de défense, nous avons défini l'interface mécanique entre le radome
et le véhicule. Nous avons aussi défini la matière à utiliser pour optimiser la
transparence électromagnétique, et réalisé une série de 80 pièces.